The Filipino-American Cultural Association of North San Diego County had its first community meeting in September 9, 1976. It first began as a social gathering of some whose mission was to preserve the Filipino cultural customs and traditions. The Alegre brothers, named June and Albert, who played a major role in this endeavor knew that they would need to seek help, so they set out to the Community Action Corporation and it was there, they met and asked for the assistance of Ms. Nelly Taguba. It was then when Ms. Taguba, one of our past directors, and the Alegre brothers began their quest in forming a club of Filipino-Americans in North San Diego County area. On September 9, 1976, the first general meeting was held at Balderrama Center on San Diego St., where there was a huge turnout. What followed was the birth of the Fil-Am Cultural Association of North San Diego County. On January 17, 1977, the first installation of officers was formed and the organization was formalized as a social club. The Association was eventually integrated with the Council of Filipino Association and Organization (COPAO) based in San Diego. On April 16, 1977, the Constitution and By-laws of the association was ratified. On May 1977, the Association Crest was adopted and in June 1979, it was chartered by the State of California. On June 6, 2001, Mayor Terry Johnson of Oceanside, California, officially afforded the Fil-Am Cultural Association of North San Diego County a Proclamation Day as part of the Oceanside community through the "Friends of the Oceanside Library". On October 17, 2013, the association was incorporated and the name was changed to FILIPINO-AMERICAN CULTURAL ORGANIZATION (FACO). On January 13, 2014, FACO became a 501(C)3 non-profit organization. Currently, the Association has more than 500 family members.
FIRST INDUCTION OF OFFICERS AND DIRECTORS OF THE FIL-AM CULTURAL ASSOCIATION OF NORTH SAN DIEGO COUNTY
In fall of 1976, an inaugural dinner and dance was held at South Mesa Club, SNCO Club, Camp Pendleton, Oceanside, CA, for the first induction of officers and directors of the association.
L-R: Mrs Epifania (Epie) Peapealalo, Chairman Ways & Means Committe; Mrs Gloria Pansoy, Treasurer; Abelardo (Abe) Mangrubang, Advisory Board Member; Mr Aritakis, Palomar College, guest speaker; Felix Saguing, Advisory Board Member; Mrs Thelma Pantig, Treasurer; Mr Albert Allegre, Parlamentarian; Mrs Connie Tirona, Advisory Board Member.
In September 1976, the official logo of the association was designed and created by PP Felix Saguing.
In 2008, the name of the association was incorporated in the logo.
In 2009, the FIL-AM logo was modified and the year it was established was added.
On October 17, 2013, the association was incorporated as Filipino-American Cultural Organization; thus, a new logo was created.
July 1977 - February 1978
February 1979 - February 1980
February 1980 - February 1983
Ray Pura
February 1983 - June 1985
Leo S. Sicat
February 1993 - February 1995
Jose A. T. Capati
February 1995 - February 1997
February 1997 - February 2000
Marilou Dela Rosa
January 2007 - December 2010
Rica Derosier
Amelia Sivage
January 2015 - December 2016
Belle Limoge
January 2017 - December 2018
Rein Hanson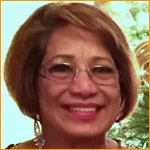 Dori Harris